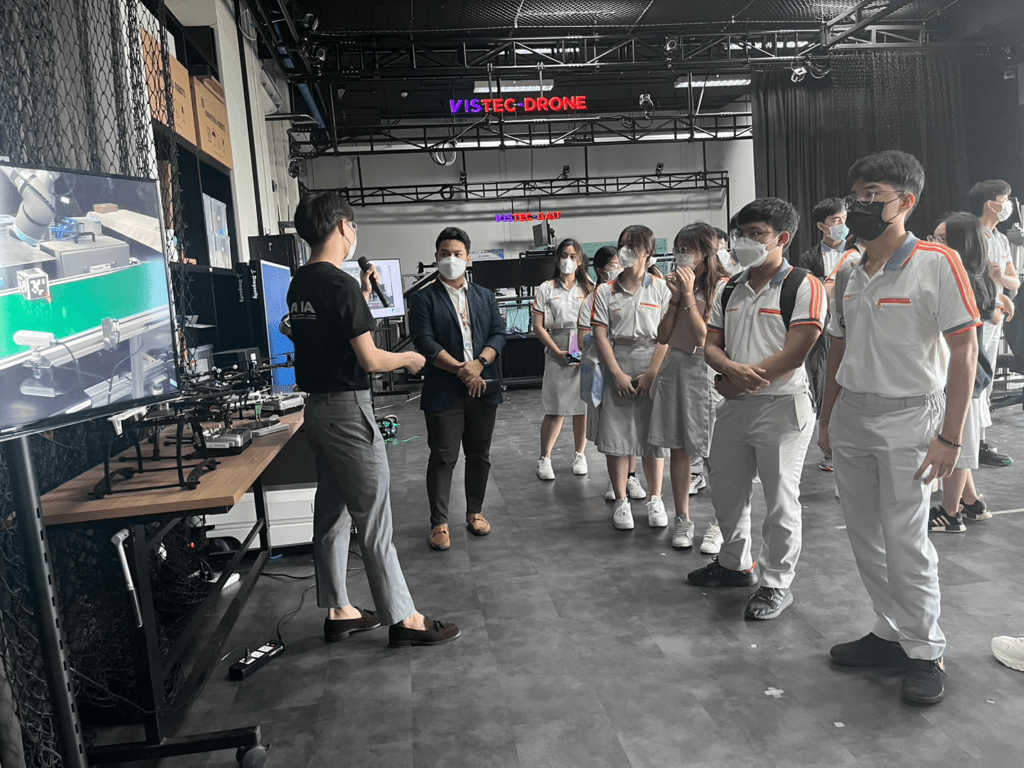 Darunsikkhalai School for Innovative Learning (DSIL) is part of the King Mongkut University of Technology Thonburi (KMUTT). The school is well known for its unique ways of teaching and learning. It was, therefore, not surprising to see the highly motivated, interactive, and inquiring students when they visited VISTEC on Thursday 2 March 2023. Since there are several KMUTT alumni who are currently staff and research students at VISTEC, students from DSIL practically felt at home. After a briefing on VISTEC at the Auditorium, DSIL students and teachers went straight to the famous laboratory of Professor Dr. Poramate Manoonpong at the School of Information Science and Technology (IST) to see part of the "Seven Wonders of Robotics" where Professor Manoonpong's research students were in place to show those wonderful robotics. The visitors then went to visit the Centre of Excellence for Energy Storage Technology (CEST) of the School of Energy Science and Engineering (ESE) where the VISBAT Li-ion batteries have been in the making at the pilot plant.
DSIL staff and students were shown and explained about the VISTEC iconic carbon nanotube during the meeting in the auditorium, and about graphene at CEST, they expressed their interest to see the instrument that can help scientists see those molecules in actual nature. An arrangement was made on the spot for DSIL staff and students to visit Scientist Thassanant Atithep, the VISTEC expert on JEM ARM200F Atomic Analytical Resolution Microscope. Scientist Thassanant showed and told the visitors about the honeycomb structure of graphene where the carbon six-membered ring could be visualized. Scientist Thassanant also showed the electron micrographs of the carbon nanotube, the Si dumbbells, the bacteriophage, and a few other samples. Staff and students later went up to the sixth floor of the EECi Observation Tower to have a 360-degree view of the Wangchan Valley. They later visited the E-Library at the Learning Center.
Students also asked if they could see Kamnoetvidya Science Academy (KVIS). Some of the students seem to have learned about a common Australian expression, "If you want something, you ask", so the permission to see KVIS was granted by Vice-Principal Dr. Phornsant Lertwitthayawiwat. At KVIS, Dr. Phornsant showed DSIL staff and students the microcontroller lab, FabLab, and the KVIS Art Lab. Before returning to DSIL, one student said "It was so marvelous to see several things at VISTEC and then KVIS in a one-day visit. One thing unexpected, and the one I like the most, is to see the actual atoms of carbon and silicon for the first time in my life."
Teacher Akekarache Pan-Umphan, Head Teacher of the DSIL visiting team, wrote "I wanted to take a moment to personally thank you for the incredible experience that my students and I had during our recent visit to Vidyasirimedhi Institute of Science and Technology. Your staff went above and beyond to make us feel welcome, and their knowledge and expertise were truly impressive.
As a teacher, it is always a pleasure to see my students engaged and enthusiastic about learning, and our visit to VISTEC certainly achieved that. From the robotics lab to the Center of Excellence for Energy Storage Technology, we were all captivated by the cutting-edge technology and innovative research we were privileged to witness."