7 Nov 2023 – On the occasion of VISTEC graduation day of the academic year 2022, Her Royal Highness Princess Maha Chakri Sirindhorn graciously gave certificates to Master and PhD graduates (VDO 5:25).
This year, we had 2 graduates from our school of IST attended this event, who were Mr. Chaicharn Akkawutvanich from BRAIN lab and Mr. Phairot Autthasan from Interfaces lab.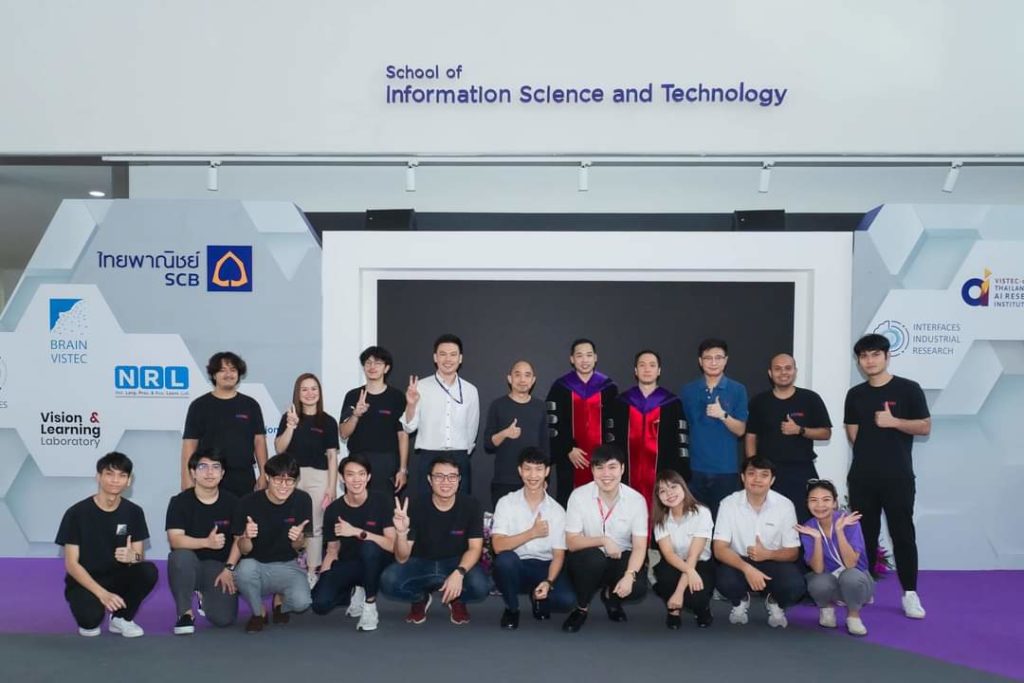 During this time, HRH also attended and opened novel "Wangchan Advanced Industrial Labs (WAI)" which was the research lab targeting for industry, sensor technology, artificial intelligent, and robotics.
Along this great opportunity, our IST faculty members Assoc. Prof. Dr. Theerawit Wilaiprasitporn and his Interfacs lab team presented their research works and recently establised spin-off company; SensAI, to HRH. The aim of the company was to reduce the gap between human and machine. It also focused on development of healthcare technology for the future, for example, (VDO 7:10)
AI project to detect Lymphoma from stained images through pseudocell system with more accuracy,
B-Sense project to track sleep apnea assisting screening process for Cardiac Arrhythmia. This project was a joint collaboration between VISTEC, Siriraj hospital, and Pattani hospital, sponsered by Siam Commercial Bank (SCB).
Besides, Prof. Dr. Poramate Manoonpong, head of BRAIN lab presented recent on-going works, for exmaple, (VDO 8:13)
HERO industrail project, a teleoperation robot for petroleum & gas vessel inspection to reduce risk for human in hazardous enviroment. This project was sponsered by PTTEP,
Black Mirror reseach project, a unique and novel technique to control movement of a legged robot or an insect robot. It enabled the robot to learn a walking pattern by itself within a short period of time which can be applied in exploration and inspection of undersea pipeline,
Drone obstacle avoidance research project whose control can be applied in serveral environments e.g., construction site, goods transportation, and human-risk conditions.
Link:
Ch3 – https://ch3plus.com/news/royal/royalnews/373585
Ch5 – https://www.youtube.com/watch?v=iIY11IyNl7s
Ch7 – https://news.ch7.com/detail/683660